---
Created this yesterday; and its the first selfmade colorscheme that doesn't look like shit.
Code:
*background: #0d0b0d
*foreground: #f3e7c6

! black
*color0: #1e2f41
*color8: #906b61

! red
*color1: #753b39
*color9: #7f403e

! green
*color2: #52633e
*color10: #5f7348

! yellow
*color3: #965142
*color11: #a6594a

! blue
*color4: #486569
*color12: #306769

! magenta
*color5: #503b66
*color13: #6d4f8a

! cyan
*color6: #29635b
*color14: #2f7066

! white
*color7: #b99f8d
*color15: #f3dcc6
SpongeboZZ; Bikini Bottom Mafia/
You're cock-sucker, bitch/ silence while godfathers speech/
yeah/ da plancton in muh blunt/ gangster squarepants witha gun/
Sponge iz the bozz in da buiz/ you're creating silly trash/
i'm creating hollywood shit/
dgz

|

05-04-2014, 12:45 PM

| #34
Code:
urxvt*background: #e0daac
urxvt*foreground: #856a2a
!!urxvt*foreground: #ffdcc4
urxvt*cursorColor: #93a1a1
urxvt*colorIT: #8c644c
urxvt*colorUL: #646a6dy
urxvt*colorBD: #746C48
!black dark/light
urxvt*color0: #50443b
urxvt*color8: #817267
!red dark/light
urxvt*color1: #8c644c
urxvt*color9: #9f7155
!green dark/light
urxvt*color2: #746C48
urxvt*color10: #8F8558
!yellow dark/light
urxvt*color3: #bfba92
urxvt*color11: #E0DAAC
!blue dark/light
urxvt*color4: #646a6d
urxvt*color12: #777E82
!magenta dark/light
!!urxvt*color5: #6d6871
!!urxvt*color13: #756f7b
urxvt*color5: #766782
urxvt*color13: #897796
!cyan dark/light
!!urxvt*color6: #3b484a
!!urxvt*color14: #444d4e
urxvt*color6: #4B5C5E
urxvt*color14: #556D70
!white dark/light
urxvt*color7: #504339
urxvt*color15: #9a875f
based on
erosion
by crshd.
Code:
! BLACK
*color0: #2D2D2D
*color8: #525252
! RED
*color1: #98414F
*color9: #D65859
! GREEN
*color2: #78924A
*color10: #BBBB87
! YELLOW
*color3: #D1A743
*color11: #E3CC78
! BLUE
*color4: #6F77A4
*color12: #517088
! MAGENTA
*color5: #854756
*color13: #D6AEBF
! CYAN
*color6: #88AFBB
*color14: #9DE3E3
! WHITE
*color7: #A0A0A0
*color15: #FFFFFF
.Xresources
Code:
URxvt*background: #38312A
URxvt*foreground: #FFDFC0

!! black dark/light
URxvt*color0: #26201A
URxvt*color8: #938673

!! red dark/light
URxvt*color1: #826248
URxvt*color9: #B5815C

!! green dark/light
URxvt*color2: #6B6239
URxvt*color10: #99905A

!! yellow dark/light
URxvt*color3: #878058
URxvt*color11: #AAA16F

!! blue dark/light
URxvt*color4: #526864
URxvt*color12: #627277

!! magenta dark/light
URxvt*color5: #473A3C
URxvt*color13: #705658

!! cyan dark/light
URxvt*color6: #354C49
URxvt*color14: #637677

!! white dark/light
URxvt*color7: #443D26
URxvt*color15: #A89F70
.Xresources =
http://pub.iotek.org/p/NlxYZSZ
Code:
-----BEGIN GEEK CODE BLOCK-----
Version: 3.1
G d s+:++ a--- C++ UB P+ L+ !E !W+++ !N !o K--? w++ !O M++ !V PS+++ PE-- Y++ PGP+ !t !5 !X !R tv b+ DI D++ G e- h r y--
------END GEEK CODE BLOCK------
buddhist ~ esperantisto ~ communist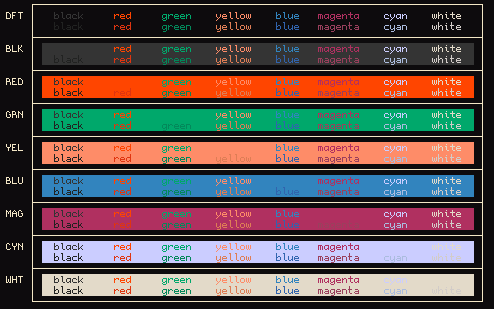 Digging an old thread because I wanted to revive it since I created my first color scheme this day and really wanted to share. If somebody is interested in the source, here it is:
Code:
! Colors
urxvt.cursorColor: #dccbc2
urxvt.background: #0d0b0d
urxvt.foreground: #f3e7c6

urxvt.color0: #343434
urxvt.color1: #ff4500
urxvt.color2: #00a86b
urxvt.color3: #fe8c68
urxvt.color4: #3284be
urxvt.color5: #b03060
urxvt.color6: #cbcdff
urxvt.color7: #e3dac9

urxvt.color8: #212221
urxvt.color9: #df3510
urxvt.color10: #03885a
urxvt.color11: #de7d55
urxvt.color12: #3164ae
urxvt.color13: #9a405d
urxvt.color14: #abbcde
urxvt.color15: #d2ccc8
i've been working on a new color scheme...
http://git.io/xcolors
Code:
! ██████ ██████ ██ ██ ██████ █████ █████ ██████ █████ ██████
! ██░░░░ ██░░░░██░██ ░██░░██░░████░░░██ ██░░░██░░██░░████░░░██░░██░░██
! ░░█████ ░██ ░██░██ ░██ ░██ ░░░██ ░░ ░███████ ░██ ░░░███████ ░██ ░░
! ░░░░░██░██ ░██░██ ░██ ░██ ░██ ██░██░░░░ ░██ ░██░░░░ ░██
! ██████ ░░██████ ░░██████░███ ░░█████ ░░██████░███ ░░██████░███
! ░░░░░░ ░░░░░░ ░░░░░░ ░░░ ░░░░░ ░░░░░░ ░░░ ░░░░░░ ░░░
! r e a d c o d e l i k e a w i z a r d
!
! sourcerer by xero harrison (http://xero.nu)
! ├─ based on sorcerer by Jeet Sukumaran (http://jeetworks.org)
! └─ based on mustang by Henrique C. Alves (hcarvalhoalves@gmail.com)

! █▓▒░ scorcerer colors
*.foreground: #c2c2b0
*.background: #222222
*.cursorColor: #c2c2b0
! black
*.color0: #222222
*.color8: #272822
! red
*.color1: #aa4450
*.color9: #ff6a6a
! green
*.color2: #719611
*.color10: #b1d631
! yellow
*.color3: #cc8800
*.color11: #ff9800
! blue
*.color4: #6688aa
*.color12: #90b0d1
! magenta
*.color5: #8f6f8f
*.color13: #8181a6
! cyan
*.color6: #528b8b
*.color14: #87ceeb
! white
*.color7: #d3d3d3
*.color15: #c1cdc1
---