---
I inst alled arch on my netbook, after installing X11 and Xorg, I sttart the x server and: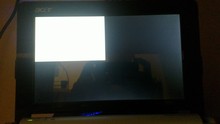 only a little white shell box opens, I can see mouse as well. Typing "exit" into the shell terminates X.
Is this a problem, or just the fact that I haven't installed any desktop environment yet (Gnome, KDE etc..?)
This is not a problem.

It's just using the default wm(TWM I think.)

Install a windows manager that you like and then add it to your .xinitrc.

and then type startx.
Which one do you prefer?

I've only used KDE and Gnome, I liked KDE better. But is there even some better one? :)
yrmt

|

04-09-2012, 03:11 PM

| #5
looks like only an xterm is opened. install whatever wm/de you like and add it to .xinitrc ;)
pac

|

04-09-2012, 03:42 PM

| #6
If you really want DE installed then I believe xfce is the most lightweight out there. If you want something more faster and ever more lighter, then consider using window manager.
yrmt

|

04-09-2012, 03:48 PM

| #7
fvwm is lighter than xfce ;)
pac

|

04-09-2012, 04:01 PM

| #8
yrmt

|

04-09-2012, 04:05 PM

| #9
Fvwm is a desktop environment with a crapton of features.
Installed fluxbox. Now writing this post from the netbook!

Wow linux is great. Never found it out by using stupid distros like ubuntu....
---